The day we met Jeff Beck... 
Back in 2008, I was invited by virtuoso violinist Nigel Kennedy to take part in his quintet as a vocalist & songwriter alongside Xantoné Blacq, for his album simply named "a very nice album" (EMI classics). To this day I am deeply grateful and humbly thankful to Nigel for this unforgettable &incredible experience. We performed live at the jazz café in London for the official release of this amazing album. After the performance, as Ric and I were heading backstage, the door opened as I was trying to open it. It was Jeff Beck! He said "Wow! Are you Chris?!" 
I was completely taken aback and just responded "Wow! Are you Jeff Beck!?" 
A burst of big laughter and the hellos followed. I asked him: " How did you know my name? Nobody knows me here!" 
He innocently responded " But you just sang with Nigel and he introduced you on stage and I loved your voice and performance. That's how I know your name!" Then he invited Ric and me to seat with him in a quiet place in the busy backstage. After a while we stopped talking music, we talked about food &cooking! 
He asked me "So you French people all must know how to cook mushrooms properly can you please tell me how it works because I fail miserably when I do and it's unfortunate because I adore them." 
Of course, I did share with him a few recipes & cooking instructions. I remember vividly this very special moment... 
How can an apprentice guitarist and singer like I was then and still am- can ever forget this!? 
He was very kind, very humble, and a true gentleman. Such a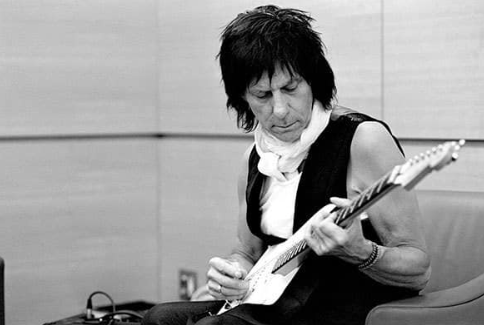 great inspiration in choosing the guitar as an instrument too, and will remain all of our life one of our greatest inspirations as musicians. Thank God for him and his music. He will be cruelly missing down here. It's crushing. Obviously now for the rest of my life, I will think of him each and every time I cook mushrooms whilst I will be listening To his incredibly beautiful music playing in the background. We will be playing and cooking together when we will join him in the other world. Much love and respect Sir Jeff Beck for your astonishing contribution to music. One of your most memorable pieces of advice was to run away from applause and to never stay in our comfort zone as musicians. Up to this day, we followed this sound and wise advice. Our American adventure says it all. We would like to mention that he was a completely sober man and didn't do drugs. Additionally, to music, his passions were: collecting old cars, doing animal rescue & cooking. May you now rest in peace. Prayers & sincere condolences to his wife Sandra.