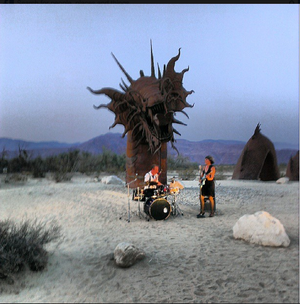 Bio - Our Story
''LUNG'' – The mystical Chinese dragon, 
The Human body needs two lungs to be strong and powerful. 
Two-piece electro rock/pop outfit 'LUNG' is no different. 
'The left Lung' - multi-passionate and hardworking  Vocalist/Guitarist/director/writer/Song Writer Chris Loung (LUNG, Nigel Kennedy, BMG, Sony music, EMI classics) is back with renewed strength and focus teaming up with -

'The right lung' English Drummer/Musical director/percussionist/Producer/Song writer/Mixer Ric Chandler (Modern English, Calvin Harris, Tricky, Gary Numan, Rico) – to create the unique sound that is 'LUNG'. 
Though there musical world is deeply rooted in rock music, Lung pursued there search for new sonic expression and developed a rock sound that they made there own. The sensuous lyrics are carried by her captivating voice, defying the layers of emotions and sounds, to take the listener on a cinematic journey. 
A Journey through a collection of short stories sung by a French female singer backed by a fierce and sensitive octopus like drummer, armed with an array of technology. A two-piece electronic phenomenon –'LUNG' 
LUNG has influences ranging from modern electro to classic rock coming under unity in cinematic soundscapes, going beyond the stereotypical sound of popular music. 
'LUNG' landed in the USA May 2011, since then constantly touring the vast states of the America's in their RV/Motor home named 'Marisa', using this nomadic lifestyle to meet their audience and learn about the American people and culture. Revisiting the original source of Rock and Roll, living the dream with all its inspiring turmoil's. 
No Regrets. From New York to Miami, Nashville to New Orleans, Austin to Phoenix and Los Angeles to Palm Springs…which is now their headquarters allowing them to encounter some of the greatest artists in the world such as Brad Pitt, Angelina Jolie and Oliver Stone who now have their own copy of the LUNG album. 
The road is always chaotic but so beautiful, which offers a real life and musical learning experience second to none. 
290 dates in 10 months all accomplished alone by sheer determination, hard work, curiosity and their desire to share their music, differences in culture and experiences with their now beloved American audience. 
The new and exiting 'LUNG' live Show includes a projection of images, visuals and short film samples, which have been especially created from their many travels, for their live performances. 
The 1st LUNG album 'LUNG' has been released on 28th February 2013 on Octopus Wreckords, New York, NY. 
The lyrics are written by highly acclaimed writer, director, script writer and actor Boris Bergman, who is responsible for many worldwide hits for artists such as Moby, The kills, Portishead, Placebo, Marianne Faithfull and Ricky Lee Jones among others. 
The album is co produced by Scottish artist Rico.Rico's internationally acclaimed debut album 'Sanctuary Medicines' (EMI) and second album 'Violent silences' (Manufractured) are both masterpieces with a unique sound of their own, showing the huge talent, sensitivity and strength of Rico as an Artist and Producer. Rico has brought his unique production and sound, fusing this with the sound of LUNG to create another masterpiece for sure. ' 
The artwork for the 'LUNG' album was created and designed by the outstanding English graphic designer and illustrator, Rich James Johnson. 
Live LUNG occasionally expands to a 3 piece band employing Japanese bass player Takumi Iida or internationally known bass player Nick Cohen who was a founder member of the brilliant electronica improvisation group "The Bays" and whom was played along side Massive Attack, Eurythmics and many others. 
 Armed with their visions, boldly moving beyond the boundaries of musical styles, LUNG brings you modern electro pop/rock to a new territory. 
Lung are currently working on a brand new E.P due for release in 2018 and have just released a brand new 3 track single entitled 'In the key of west(keys strong) - Mixed by Grammy ward winning Chris Lord Alge.
All proceeds from this single go to help victims of hurricane Irma. 
Lung are constantly touring the world gaining momentum like a fierce Dragon .